Sports injuries are very common. Everyone, not only professional athletes can be at risk for a bone fracture. These injuries often happen when too much force is applied to the bone, usually during a fall or an accident. The result is either a partial or completely broken bone.

The treatment for bone fractures often involves immobilization with a cast, splint, or even traction to help in healing. The goal is to put the bones back into place and prevent them from moving until they heal.
Healing can take at least 6 weeks. It may take even longer for the ligaments and tendons to heal. Although most patients can return to normal activities in around 3 to 4 months, studies have shown that recovery can take up to 2 years such as in ankle fractures.
Platelet-rich plasma or PRP has been used for bone fracture healing and bone-graft healing. Research in the field of PRP suggest that platelet rich plasma treatment may speed up recovery of fractures and also increases the ability of the bones to withstand stress.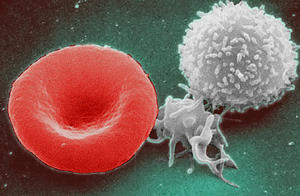 By Electron Microscopy Facility at The National Cancer Institute at Frederick (NCI-Frederick) ([1]) [Public domain],
via Wikimedia Commons
PRP works by stimulating the natural healing processes in the body. Doctors treat patients using cells from the patient's own body. This is especially helpful in trying to heal bone fractures while avoiding the long process of recovery.
It is a simple concept that involves a standard blood draw and concentrating them to extract the platelets. This is then injected into the site. This way, the patient's own growth factors that normally circulate in the blood can then be placed where they need to be to stimulate the natural healing response.
Often, the healing time is limited by how quickly the tissue can heal. Platelet-rich plasma therapy can provide the much-needed jumpstart in the process of healing. A study on the effects of PRP on the healing of fractures was done by Guzel Y, Karalezli N, Doral MN, et al PMID: 24170188. Although the study has yet to be done on humans, it has shown promising results on rats. The results demonstrated the ameliorative biochemical effects of PRP on fracture healing, in addition to accelerating the histological union of fractures. Their conclusion was that PRP could be a viable alternative to accelerate the healing of fractures, late unions, or non-unions.

Studies have shown platelet rich plasma therapy to be effective at relieving pain and returning patients back to their normal activities. Ultrasound and MRI images have shown definitive tissue repair after PRP therapy, confirming the process of healing.